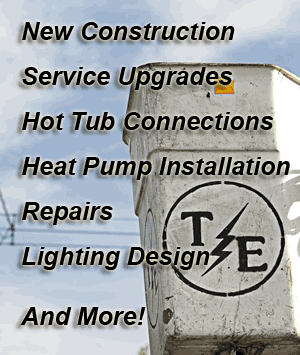 "Service is our business"

Toole Electric: Nanaimo Electrical Contractors / Electricians
Proudly serving Nanaimo for over 25 years!

Toole Electric provides residential, commercial and light industrial electrical services, from Duncan to Campbell River.

Our fully-certified electricians can service all your electrical needs with our two bucket trucks and 4 service vans. We offer 24-hour client emergency service. From replacing outdated electrical panels to designing state-of-art "smart homes," Toole Electric has the experience, enthusiasm and expertise to get your project done in a timely fashion at competitive price.
Call Toole Electric today at 250-758-5335.

How to get a hold of us...

Address: 2247 Jingle Pot Rd,
Nanaimo, BC V9R 6w2
Telephone: 250-758-5335
Email: tooleelectric@shaw.ca
Testimonial

" As a property manager, I have been able to rely on Toole Electric to provide stellar, reliable and quick service for the portfolio we handle. I recommend them very highly!"
- Diane L. | DTZ Barnicke